NEPHROLOGIST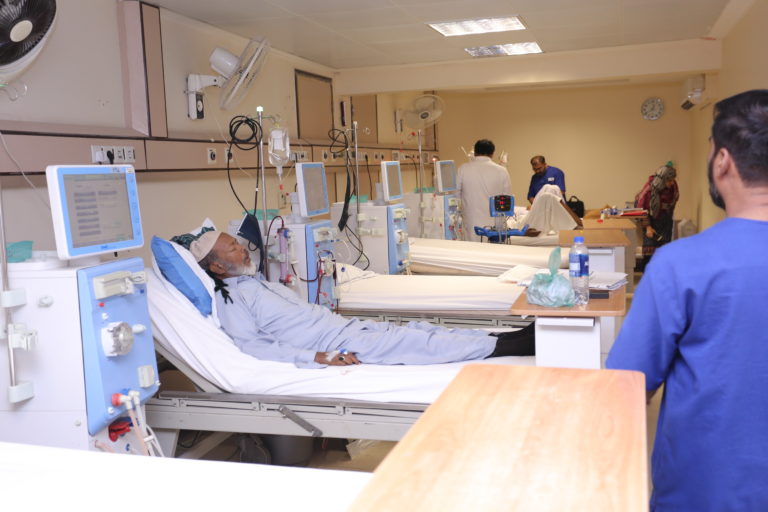 The department of Nephrology established in Memon Medical Institute Hospital, Karachi consists of a renowned and experienced team of Nephrologists. They ensure that the department facilitates all patients with dedication and provides 24/7 dialysis services. Our kidney specialists hold expertise in managing complex kidney and metabolic disorders. Our wide spectrum of services offers excellent diagnostic and therapeutic services to treat nephrology disorders. By providing focused and outstanding care to our patients, we make sure that all their acute kidney injuries, chronic kidney diseases related to diabetes, hypertension, kidney stones, nephrotic syndrome, and dialysis are treated efficiently in the department. The nephrology treatment offered at MMI Hospital is the epitome of excellence in comprehensive care and clinical technology.
Weekly Available Specialist
Full Time
Dr. Abdul Rehman Qureshi
NEPHROLOGIST
Timings
09:00 AM to 12:00 PM, 08:00 PM to 09:00 PM (Mon,Wed,Fri)
03:00 PM to 05:00 PM (Tue)
09:00 AM to 12:00 PM (Thu)
09:00 AM to 12:00 PM (Sat)

Profile
Expert in dealing with dialysis, chronic kidney disease, acute kidney disease, kidney stone disease , electrolyte imbalance, complications of diabetes and hypertension with kidney disease, kidney disease in cardiac patients.
Book Appointment