What is Community Health?
Community Health focuses on the physical and mental well-being of people in a specific region. Health impacts every aspect of life, from a child's ability to learn to an adult's ability to work, therefore it is critical for education and financial security. Working at the community level brings about the greatest health benefits to the greatest number of people in need.
Community Health Initiative
Memon Medical Institute Hospital (MMI Hospital) is a state-of-the-art not-for-profit tertiary care hospital of international standards. It is the flagship project of Memon Health and Education Foundation (MHEF). The hospital aims to serve people and communities regardless of their caste, creed, color, religion or ability to pay.
As part its mandate and corporate social responsibility to engage communities for better health outcomes, MMI Hospital has launched a Community Health Initiative through which it intends and envisions to create awareness and impart education on major healthcare issues in our societies.
Antenatal programme
The first programme in the series of Community Health Initiatives is Antenatal programme, designed to help and assist parents-to-be, cope with and to better understand the 9-month pregnancy journey for a healthy mother and a healthy baby.
The programme aims to educate and support parents-to-be, enabling them to deal with issues faced during the birthing cycle with best possible clinical, emotional and mental support.
MMI Hospital Antenatal programme being held under the auspices of our Community Health Initiative, consists of:

Antenatal Health Education Classes

Emergency Antenatal Triage Service 24/7

Painless Delivery/ Epidural for Painless Delivery

One on one Breastfeeding Education Guide

Postnatal Education Guide

Antenatal ultrasound services on Sunday
30% concession on ultrasound

A photocard of you and your baby after delivery
Antenatal Education Classes: what to expect?
Antenatal classes also called birth and parenting classes will help you and your spouse to better prepare yourselves for a healthy pregnancy, labor and after birth care.
Each antenatal class set consists of four sessions of approximately 1 ½ hours each held on Saturdays on a biweekly basis as follows:
Session # 1 – Antenatal Care
Session # 2 – Labour and Delivery
Session # 3 – Postnatal Care
Session # 4 – Breastfeeding and Baby Care
For class times please review the calendar below.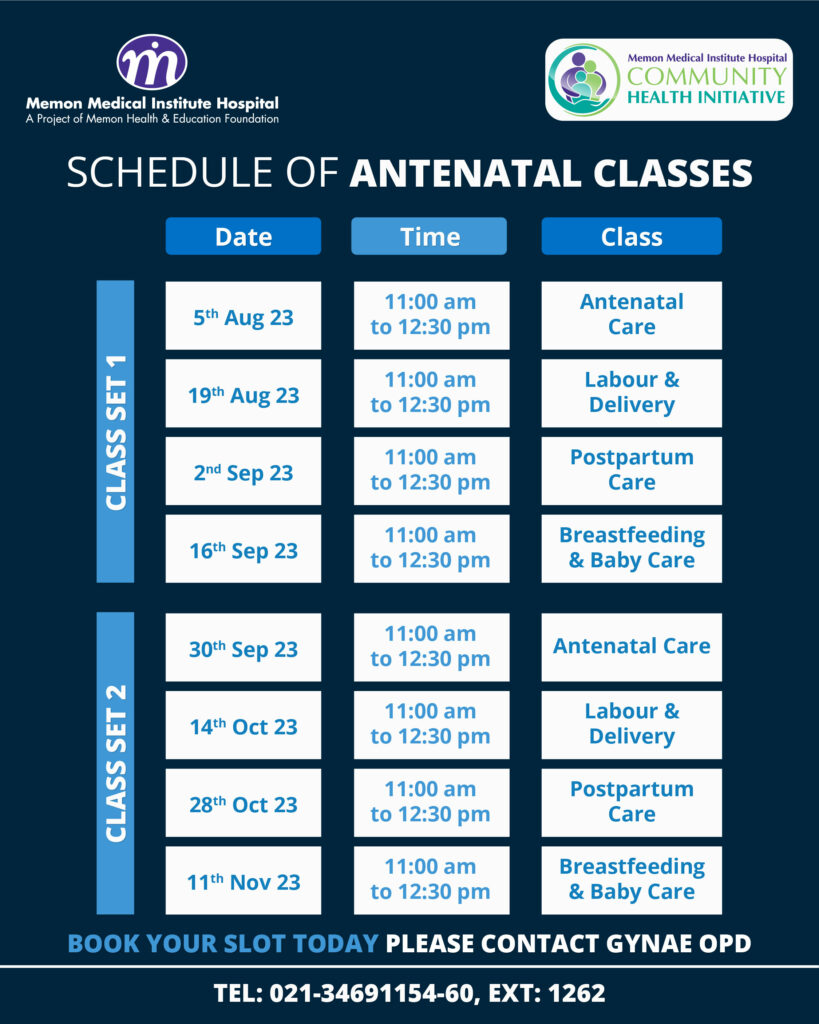 When to register for Antenatal classes?
Try to register for these classes early on in your pregnancy to know and experience this journey in the best way possible.
Booking Information
To book online please fill out the form below. You can also book yourself for antenatal classes in person by visiting our Department of Obstetrics and Gynaecology or our the main OPD counter at MMI hospital.
---