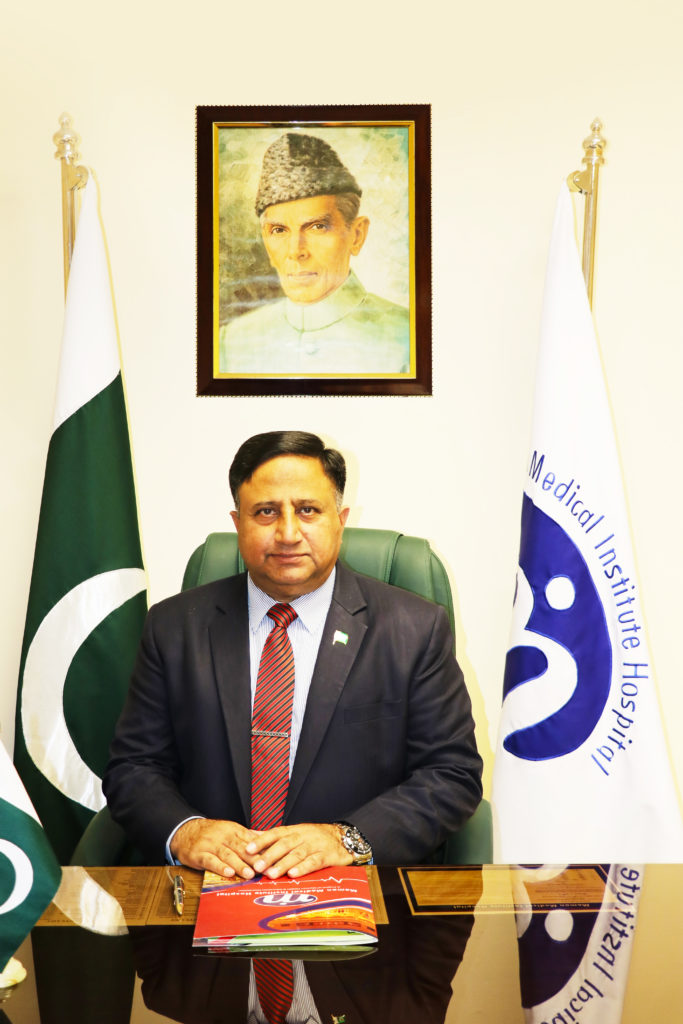 Memon Medical Institute Hospital (MMI Hospital), a project of Memon Health & Education Foundation (MHEF) has been established and proudly serving the community with a vision to be a role model for caring, curing, education, research and employment. The mission assigned to this state-of-the-art hospital is to provide accessible and affordable quality health care and education to all with empathy, dignity and respect; irrespective of their caste, creed, color, religion or the ability to pay.
The hospital is well equipped and excellent tertiary care services are being provided 24/7 to all as per our mission statement. Multiple free medical camps, free Lithotripsy, free Total Knee Replacements and free Cochlear Implant Surgeries are being carried out in this iconic hospital for non-affording patients. Besides this, the hospital runs Outreach Centers at various locations where specialists and family physicians render their services apart from laboratory samples collection.
MMI Hospital is geared up to further expand the hospital facilities and new wards are being added. Outpatient Department have been increased and facilities are being enhanced in the clinics. We are in process of Expansion of the Hospital's Departments including the Construction of the Dialysis, Obstetrics & Gynecology Ward, a New Outpatient Department, Construction of the Administration Building and others. All these are essential to serving the Patients better and with the best possible facilities.
Memon College of Nursing is successfully undertaking various courses including BSN, Critical Care and Community Nursing. It is a matter of pride to mention that quality nursing training is being imparted. The enviable scores by its students under the umbrella of Dow University of Health Sciences is an evidence to the sustained hard work by its faculty.
During the previous years, we realized the importance of physiotherapy services while managing Memon Medical Institute Hospital.  It is due to the fact that we have not only expanded the Physiotherapy Department of MMI Hospital with the latest equipments but also prioritize to establish Memon College of Physiotherapy and Rehabilitative Medicine, a quality physiotherapy institute which will not only meet the requirements of the current healthcare needs of the country but also cater to the future growing requirements.  
We are continuously striving to go beyond the expectations of the stakeholders and to utilize the generously donated funds in the most appropriate and optimal manner with due diligence and utmost transparency. We highly regard the spirit and passion behind any donated amount for the well-being of masses who otherwise stay deprived from quality health care due to poor financial condition and paucity of resources. Therefore, unmatched mechanism of audit and accountability is emplaced with care to boost the confidence of our respectable donors.
The MMI Hospital team comprises of dedicated, spirited and motivated associates who are determined and consistent to convert the dream of its founders and trustees into reality with hard work, passion, professional excellence, dignity and respect for humanity. I am humbled to have been blessed with the support of trustees, donors, corporate organizations and my team members!
Brigadier
Dr. Malik Waqar Ahmad Awan, TI(M)
(Retd.)